What is a deep cleaning?
Let's say you've never had a maid clean your house before. You may consider it clean but our professional cleaners can spot very minor details that usually get missed and we clean them when you hire a professional residential cleaning company.
As a residential cleaning service, we are frequently getting questions related to a deep cleaning package. Our deep cleaning is a quantity-based option and it gives you additional 1.5-2 hours of cleaning. You may add as many deep cleaning extras as you need.
Why do we have this option?
Sometimes only general cleaning is not enough. Though our prices are flat, they have been calculated based on an average time spent at the property. So if you feel that you would like your home to be extra clean or you haven't had a cleaning service in your home for more than 2 months, we would definitely recommend to add this option. Please keep in mind the size of your house or apartment and add the number of 'deep cleaning' extras accordingly. Please note that this is not a checklist so please just chose whatever suits your needs.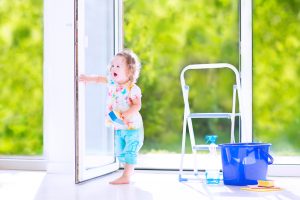 Once we are in your home, we will ask you which areas require an extra time and attention. Here is a list of what we can we focus on:
1.       Bathrooms. Window tracks, wet cleaning of baseboards, deep cleaning of the bathtub, shower glass that hasn't been cleaned in a while, door racks, air vents, shower caddy.
2.       Living/common area. Wet clean baseboards, dust ceiling fans, wash doors, clean door racks, wet wipe blinds, thoroughly vacuum a sofa and chairs, clean air vents.
3.       Kitchen. Clean the hood vent, clean kitchen cabinets from outside, deep clean the floor, wet wipe blinds, clean top of the fridge, deep clean walls.
4.       Bedrooms. Dust ceiling, ceiling fans, wet wipe baseboards and blinds, remove heavy dust.
This is not a complete list, so feel free to ask for other extra things! Here you may find the list of things that we don't clean: