Maid Service Los Angeles
Cleaning your home or office regularly is a necessary chore. Unfortunately, this task can often fall to the bottom of the list of priorities, particularly for busy, professional people. At Rocket Maids LA, we understand that by letting your cleaning routine fall behind, this challenge can become even harder. Because of this, we offer a comprehensive maid service to residents across Los Angeles, Glendale Orange County, and Santa Monica, California.
Qualified and Experienced Maids Can Create Efficient Spaces
When it comes to housekeeping and cleaning services, Rocket Maids LA is the most trusted in the industry. Our experience cleaning homes in Los Angeles means that you benefit. Enjoy all aspects of a clean home and efficient space because of our maid service. Our residential maid services are designed to offer you the convenience and flexibility of regular cleaning so that you can be more productive within your space.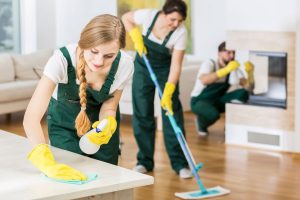 Robust Maid Services in Los Angeles, Glendale, and Santa Monica
A maid cleaning service differs from a one-off deep clean. A well-lived in space requires additional care of consistent, regular cleaning. Tackle clutter build-up and you will minimize the stress in your life. Our maids are highly experienced in performing quick and nonintrusive cleaning so that you can work with minimal disruption in your day to day routine. We are able to provide one or more maids on a regular schedule, be it twice weekly, weekly, biweekly, or monthly, to take on the cleaning requirements that you just do not have time for.
Call Us Now to Schedule your Regular Maid Cleaning Service
It is time to stop letting a messy house affect your sense of pride so let Rocket Maids LA offers residential maid service. Maid service is designed to take the challenge out of staying tidy. Residents within the Los Angeles, Glendale, Orange County, and Santa Monica areas. To find out how we can bring order to your life, give us a call at (818) 208-1698.