At Rocket Maids, a residential cleaning company located in Los Angeles, we are pros when it comes to oven cleaning. That's why we decided to share some tips related to oven cleaning and you may choose whichever best suites your needs and preferences in cleaning.
Oven cleaning is not a glamorous thing to do. People usually skip it during their regular cleaning, saving for another time. Another time never comes… Therefore, you can imagine how dirty ovens can be during move out cleanings. All those layers of burnt food (is it a fireplace or oven?), melted cheese from pizza, grease all over the oven (thanks to that turkey that you cooked for last year Thanksgiving) and so on.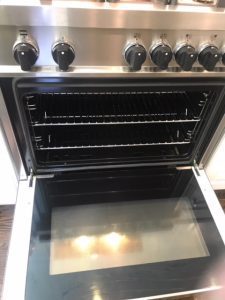 We would recommend to use a fume-free oven cleaner in a spray bottle. Unfortunately, when you don't have enough time to scrub your oven, this is the best product to use. There are definitely green products on the market and in  your pantry to clean the oven but when the oven wasn't cleaned in a while, you won't be able to clean fast and effectively with them. Moreover, if you have high-end oven, baking soda will still scratch the surface. So if you still decided to use it do so on your own risk.
1. Preparation
Remove and wipe down your oven in case if you have any burned residue or crumbles on the bottom. Open the oven and place some old newspapers under the door. This will protect your floor from any stains. Gloves are optional.
2. Spray
Holding can upright and pointed away from face, spray the product all over the oven, including oven racks. Please note that oven should be cold. Wait for 2 hours.
3. Clean
Using a regular sponge or magic eraser, clean oven inside. You will be surprised how easily grease will come off from the surface. Also remove racks and simply wash them in the sink using the same sponge. For a very tough spots, try pumice stick that can be found in a dollar store, Home Depot or at Walmart. Please don't use it on a stainless steel materials and it's safe to use on a regular oven surface.
4. You're ready to bake!
Just wipe down your oven with microfiber towel and it will look like new. You're ready to bake your favorite cookies 🙂
If you'd prefer to use an alternative solution, please check this video that will help you with cleaning:
You may also call us to help you with the cleaning or just go ahead and book directly here.