Maids in Los Angeles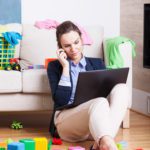 Do you feel like you're constantly chasing your tail? Are there never enough hours in the day? Do you find it virtually impossible to muster up the energy and enthusiasm to clean your Los Angeles home? Many of us love nothing more than coming back to a spotless, tidy home at the end of a busy day. We don't have time to keep up with cleaning. If this scenario sounds familiar, have you thought about hiring a maid service in Los Angeles? If you've been toying with the idea, here are some of the brilliant benefits offered by Rocket Maids LA.
Comprehensive cleaning services
If you're looking for maids in Los Angeles, we can provide you with comprehensive cleaning services. Whether you're preparing your home for guests or you need a little extra help around the house. Keeping on top of daily tasks like mopping floors, cleaning toilets, and wiping down surfaces, can be overwhelming. What if you could get help with these and a wide range of other maid services. If you're busy at work, you have children or elderly relatives to care for, the last thing you want to worry about is getting home to a messy house. With a maid service, you can take advantage of a diverse range of services that covers every room in the house and suits your requirements and your budget. To get an online quote, all you need to do is enter the number of rooms and the type of service you want.
Professional expertise
If you're paying for a cleaning service, it's natural to want the best results. At Rocket Maids LA, we have an expert team of experienced cleaners on hand to ensure your home is spick and span. We use reliable, effective techniques and equipment and our Los Angeles maids are knowledgeable and highly-trained. We hire maids with a minimum of 2 years of experience and all applicants undergo background checks.
Flexibility and convenience
We understand that plans can change, and we offer a flexible, adaptable service. You can request new or different services, you can modify time slots with notice, and you can update your payment method. It's also easy to book services via our online reservation and payment system.
Less stress
Perhaps the most advantageous aspect of hiring maids in Los Angeles is reducing stress. If you already feel like you're juggling too many balls, or you're craving some downtime, we take care of the cleaning so that you don't have to worry. You can make the most of your free time and enjoy peace of mind that your home is in safe hands.
A beautiful home
There's no place like home, but sometimes, our houses can be a source of stress. If your home is messy, untidy, or it needs a little TLC, we can transform it into a sparkling, serene haven.
Are you searching for a maid service in Los Angeles you can trust? If you long for a clean, tidy home to retreat to after a long, busy day, why not get in touch with Rocket Maids LA today? You can call us to find out more or make a booking using our super-fast, hassle-free online reservation system.