Professional Cleaners and Maids in Los Angeles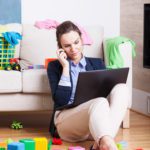 Do you find that you are always struggling with maintaining a clean and hospitable home? For hardworking professionals, coming home to a long list of cleaning duties is the last thing you want to think about. In Los Angeles, homeowners love the professional cleaning services provided by Rocket Maids LA. Our maids perform all of the cleaning tasks that you do not want to do so that you can enjoy your down time the way you should. We offer a range of benefits for house cleaning in Los Angeles, all of which we will explain below.
Thorough and Efficient Cleaning Services
If you are thinking about paying for a maid service, then you want to choose wisely. Only the most efficient maids will be able to perform the comprehensive cleaning services that deliver affordability. Rocket Maids LA is a team of maids who are highly trained to tackle cleaning duties of any size. With a simple phone call, you can schedule a thorough cleaning service that encompasses cleaning kitchen surfaces, appliances, bathroom fixtures as well as your toilet, shower and sinks. In addition, all regular services include vacuuming and mopping of all floors to create a truly comfortable environment. Whatever your budget, our maid services can be arranged to be cost effective.
Enjoy a regular cleaning schedule or ask for a one off deep clean that restores your home to perfect condition after a big event. We can provide you with a quote easily online. All you need to do is indicate what kind of cleaning service you need.
Expert Cleaning by Professional Maids
At Rocket Maids LA, all of our maids have been highly trained to deliver the most efficient professional service. With years of experience in the industry, our maids are trustworthy and reputable. We often send two maids in order to provide deep cleans within a short timeframe, leaving nothing behind. All of our maids have been thoroughly vetted to ensure that you have peace of mind during each appointment.
Convenient Service on Your Schedule
You live a busy life, so with Rocket Maids LA, you can set your own schedule when it comes to professional cleaning services in Los Angeles. Easily change your scheduled times each day, week or month, and with our simple processes for changing details on your account. You have the flexibility to use whatever payment method you feel comfortable with. Book online today for the most convenience.
Live a Stress Free Life
Without needing to take care of all of your cleaning tasks yourself, it is easy to see why hiring professional maids in Los Angeles leads to less stress in your life. Sometimes you need downtime, and we get that. Let us take care of all of your cleaning duties so that you can simply relax when you get home from work, as well as during your free time on your weekends.
Maintain a Beautiful Home
A messy, dirty house is a source of unimaginable stress. Let Rocket Maids LA provide comprehensive cleaning services delivered by professional maids so that you can always enjoy a more beautiful home.
If you are thinking about hiring a professional maid service but are worried about your budget, then Rocket Maids LA offers an affordable service that provides everything you need to reduce the burden in your life. Book online for your regular service in Los Angeles.