Being a residential house cleaning service, we are at Rocket Maids Los Angeles work quite closely with vacation rentals. This industry is in high demand in different areas of the city: Downtown, Santa Monica. Brentwood, Hollywood, Century City, West Hollywood, Manhattan Beach and so on. We work with one of the best hosts in the city and learned a few things from them that will make your vacation rental look and feel like a 5 star hotel.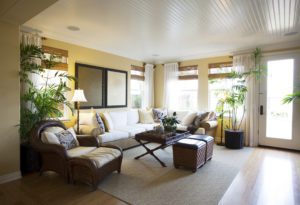 Bedding. Spend some extra money on your bedding if you want flawless reviews about your property. At the beginning you might think to save on linens and buy some cheap options from Amazon. We have to warn you that inexpensive bedding not only looks and feels differently but also won't last long comparing to the middle range bedding. Tip: look at discount stores for a luxury bedding that will last long.
Towels. Do you know why all hotels have white towels? They are easy to clean since they can be just bleached! You can wash them at high temperature and don't worry about fading colors. Even after a several washes white towels will look like new and will save you money in a long run.
Sets. Don't forget that you will need a few sets of bedding and several sets of towels. Don't buy just two as you may find yourself in a situation when a small towel was lost and a new set is not ready yet and you left without a washcloth. Buy everything in advance, vacation rentals are unpredictable sometimes and guests can book literally last minute.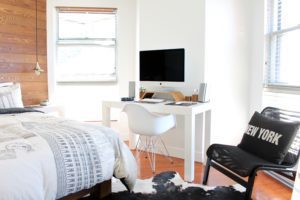 HDTV. This is a necessity in a modern world unless your listing is related to remote house in woods that promise tranquility and zen. But we are in Los Angeles and guests would expect to see a HDTV in your property. You don't need anything fancy, just the one that works and has access to Netflix. Also don't forget about other services, i.e: Roku stick, Amazon Fire stick or Apple TV.
Coffee. Even if you don't like coffee, you definitely need a coffee maker in your vacation rental. A cup of a good coffee can save a tired traveler and make their day. You don't need to invest a ton of money into coffee machine that better suits coffee shops than regular house. Just get grinder and french press and you're good to go! Don't forget to buy whole beans coffee – this will not only last longer comparing to the grind coffee but also a real coffee lover would appreciate your effort and will point this in their review.
Phone charging cables. Your guests will definitely appreciate extra phone charger cables. Just purchase a 'one suits all' charger and all your guests will be impressed! Since Los Angeles also attracts a lot of foreign travelers, such charger would be also handy for them of their plug converter is used for something else.
Hair dryer. Often overlooked, this thing can be very essential for those who are in the hurry. It can be a business traveler or just a person who loves to style their hair or, possibly a parent that getting their child ready for the bed.
Iron. Same goes to an iron. Every hotel has an iron and ironing board for a reason and you need one as well. Don't buy anything expensive. Simple and easy to use iron will last longer than other expensive devices.
Other not-so-obvious items: makeup mirror, qtips, alarm clock, tea kettle, notepad and pen, first aid kit.
As always, we can handle cleaning of your vacation rental property and be there always on time, clean quick and efficiently. While you're at work, we can turn over the property for the next guest and you even don't have to be there. Do you need photos of the job done? We will send them to you! Please book us directly here or just call us at: 818-208-1698. Rocket Maids will make your life easier 🙂